Finally, technology to help law firms dramatically increase cross-selling …
… by using software to instantly transform marketing and business development professionals into world-class coaches!
Cross Serving® is technology that provides a step-by-step approach for coaching lawyers to become masters of cross-selling.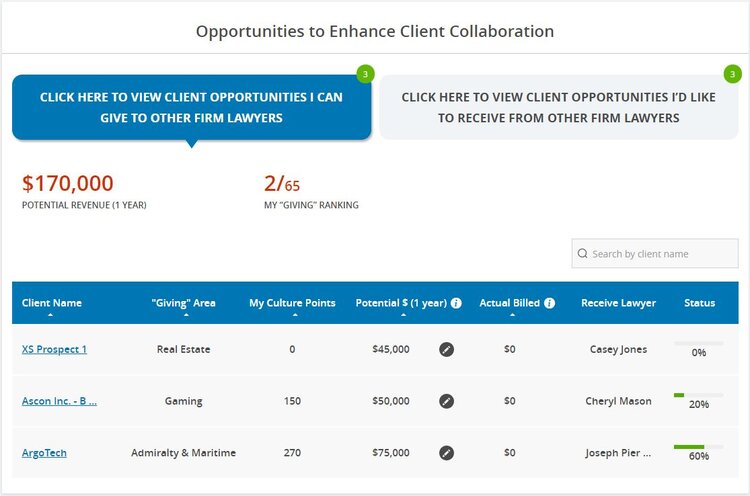 HUNDREDS OF TIPS AND PROMPTS
SIMPLE TO USE
MOVES LAWYERS INTO ACTION
ENCOURAGES MORE CLIENT FEEDBACK
AUTOMATES REMINDERS
TRACKS PROGRESS
SHOWS ROI
ELIMINATES COSTLY LAWYER TRAINING
CUSTOMIZABLE
CLOUD-BASED AND SCALABLE
Your Team Can Become Super-Coaches in Minutes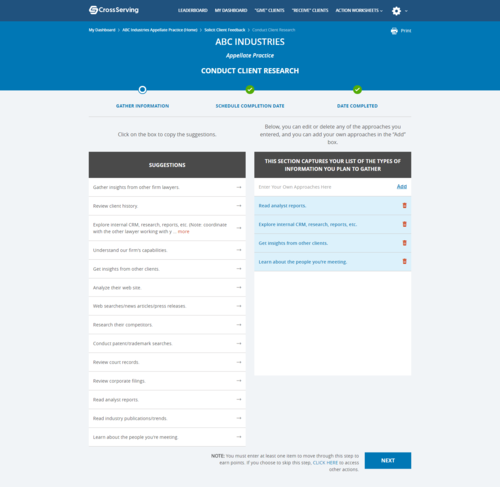 As easy as 1, 2, 3, 4:
A Marketing/BD team member enters the cross-selling opportunity into the software (which triggers an invite to the appropriate lawyer).

A video call is scheduled with that lawyer.

That lawyer screen shares their opportunity and they are coached through a series of step-by-step prompts that guide them on how to expertly pursue that opportunity.

The lawyer is prompted to make a commitment for action and follow-up calls are scheduled to move them toward completion.
This Software Creates a Triple Win For:
No need to become experts in cross-selling before using this – by just following the steps and prompts they become masterful coaches
Minimal learning curve – within an hour they can be up and running
Automatically captures lawyer progress, pinpoints sticking points, and identifies efforts by specific groups
Provides a structure and reminders for lawyers to pursue cross-selling opportunities, as both givers and receivers
Improves internal collaboration, strengthens firm culture and captures revenue that could be lost to other firms
Encourages lawyers to solidify client relationships by asking for more, and better, client feedback
Receive higher levels of service by being asked for feedback and by having the firm act on that feedback
Deepens the relationship with the firm by bringing in more lawyers to address their issues and proactively identify opportunities
Enhances institutional knowledge of their needs which could lead to better overall outcomes