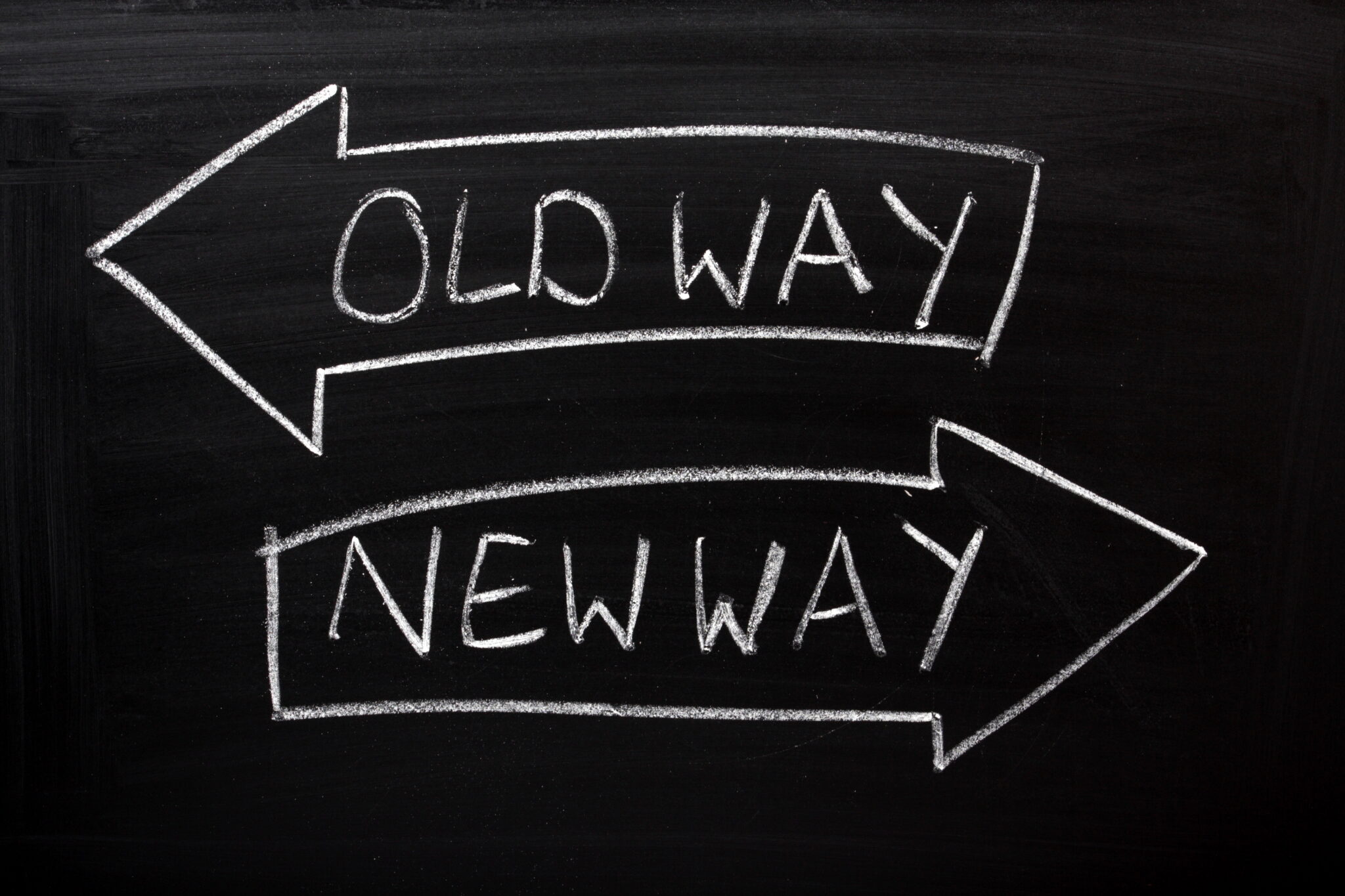 For decades, I've helped my clients change. Now it was my turn.
For as long as I can remember, I've wanted to clone myself—to create a twin that could bring my wish list to life.
Although conventional science has fallen short (perhaps a good thing), an unexpected catalyst became my genie in a bottle.
---
The Pandemic
Covid-19 shut down the typical version of David Freeman, the one who ran retreats, conducted live training, and provided business development and leadership coaching. It all came to a screeching halt when law firms hunkered down and delayed investing in my services.
Which provided the unexpected gift of time. Time to reflect, to research, to collaborate, and build what had been relegated to the dusty confines of my "someday" list. Time to tap into the primordial ooze of creativity to birth a new, digital version of myself.
A Seasoned Dog Learns New Tricks
As I navigate through this phase of my career, it would be easy to coast and do what I've always done. But that didn't sit well with me, especially as I watched the shift to online education and the potential it holds when done right. Thus, I reflected on the structure and delivery of my work.
I've always been a change agent, focused on helping lawyers and law firms find new and better ways to attract, retain and grow work from excellent clients. While the existing model of live training and coaching worked relatively well, I knew in this new remote environment, I needed to revise my approach. I realized I had to meet people where they are. They have increased their consumption of remote training, they have shorter attention spans, they're not reading books as much as before, they need help getting into action, and they crave community.
So I asked myself … How can I repackage three decades of my life's work in ways that lawyers would actively engage with? How can I leverage technology to scale my training so it becomes easily accessible to all types of lawyers worldwide, from solo practitioners to partners in the world's largest firms? How can I deliver training that is implemented and that gets people working together to achieve their goals? How can I create a legacy that lives on after I retire? Those were my queries, so I went deep to find answers.
Gathering Perspectives
First, at the beginning of Covid-19, I formed a Zoom group of other front-of-the-room people who were similarly impacted by the shutdown of live events. This eclectic brain trust included trainers, keynote speakers, authors, professional musicians, marketers, event producers, a psychologist, a magician, a fighter pilot, an Army colonel, an Olympian, an image consultant, a PR expert, a TV producer, and a technology futurist. We met weekly for well over a year to support each other and share best practices for adapting and thriving in this new remote environment. The amazing cross-pollination of ideas was invaluable for seeing the world through a new lens and collecting innovative techniques.
At the same time, I consumed everything I could on the intersection of adult learning, technology, and remote training. I was on a mission to learn how to take what I've done for nearly thirty years and turn it into a virtual approach that had a real impact.
This lengthy period of learning and reflection led me to online courses. To that end, I started another Zoom group of people who were building online programs so we could share our lessons learned and accelerate our growth. I also convened a brainstorming session with over 80 in-house law firm training experts, where we collected best practices for running virtual training programs for lawyers.
It Takes a Village
The late Joseph Campbell, an influential American writer who focused on comparative mythology, reminds us that we often need allies to complete our heroic missions. To build a program that would meet my expectations, I needed support to turn my vision into reality. That support came in two forms—my family and a virtual team.
Our youngest daughter, who was living with us during parts of Covid-19, built my website. Our son, who is a master of technology and obsessed with efficiency, spent five weeks with us starting in December of 2021, and got tired of hearing my "someday" list. As a result, within days of his arrival, boxes from Amazon magically appeared filled with lighting, greenscreens, tripods, and recording equipment. We cleared out an extra room and voilà, a studio was born.
Shooting the videos was only one part of the greater whole. We also needed an army of specialized talent, so my son dove into Fiverr and Upwork to fill the gaps.
The next thing you know, I have an international team of experts:
Virtual assistant from the Philippines
Slide deck creator from Indonesia
Video editors from Pakistan and Canada
Logo animator from South Korea
Online course development team from India
SEO expert from Pakistan

Copywriters from Hawaii and Ireland
Researcher in the US
Excel spreadsheet designer from Romania
A graphic artist from the US
Podcast art creator from the Philippines
Support assistant from Canada
An Online Program For Modern Learners
From this alchemy arose an online, self-study training and coaching program, which I lovingly call "Digital David" but goes by the tradename Lawyer BookBuilder®.
It took me more than 1,000 hours to condense my life's work in the realm of business development into 4 hours and 9 minutes of video content (specifically, 34 micro-lessons).
Concise, high-quality content, however, is not enough. The holy grail of training is getting participants to stick with the program, complete their tasks and continue to use the techniques after the training is over. This is especially challenging in a remote environment, where it's harder to watch what people are doing.
As trainers, it is our obligation to not only provide information but to create environments that support implementation. To promote both learning and action, I filled Lawyer BookBuilder® with a boatload of advanced adult learning techniques. For my fellow geeks, here is a partial list of the magic tricks that are packed under the hood:
| | | |
| --- | --- | --- |
| homework | knowledge checks (quizzes) | social proof |
| deadlines | reframing | visualization |
| worksheets | storytelling | vocal tone |
| downloads | memory hooks | energy |
| scripts | quotes | emotion |
| stage setting | sound bites | personality |
| learning outcomes | metaphors | conversational |
| spaces learning | analogies | humor |
| repetition | research | empathy |
| summaries | progress measures | intrinsic rewards |
| graphics | small wins | praise |
Training that sticks
While the techniques listed above help to move adults into action, we know lawyers are very busy, so without additional external stimuli, they may not follow through, no matter how many bells and whistles we bake into the process.
Therefore, throughout the program, I nudge them to create "Watchers" and personal reminder systems to "Guarantee" they will remind themselves to act on the steps they are prompted to take in this program. Below are some of the key elements.
For solo and small firm lawyers, I suggest creating a buddy system, where they find another person equally if not more motivated to engage in business development and agree to a schedule where they regularly check in to hold each other accountable.
For firms with many lawyers, I strongly recommend forming cohort groups – pods of motivated lawyers across offices and/or practices who go through the modules together and debrief, perhaps monthly, to hold each other accountable on the action steps, share best practices, peer coach each other, and overall form deeper relationships.
To support the process, I developed a "Cohort Group Leaders Guide" (see graphic to right) to help make forming and implementing cohort groups a turnkey process using internal firm resources so firms don't have to rely on an outside consultant to run the sessions.
Content and User Experience
To begin the daunting process of identifying and condensing content, I started by sweeping through my nearly 30 years of presentations, books, articles, videos, and coaching notes to compile my "greatest hits" in each major category of becoming a highly effective rainmaker.
The graphic below—in essence, my table of contents—is where I landed.
After plucking the gems from the reams of content I'd collected, the focus shifted to maximizing the user experience. That began with the look and feel of the images in the videos, with the goal of creating a visual journey that aligned with the story I was telling of how to become a better business developer.
A graphic designer I am not, so I found a slide design expert who took the mosh pit of images I've used over decades of delivering my training programs and turned them into a set of consistent, clean graphics that make it easy to follow and remember the key points of my narrative.
While pictures tell a thousand words, good metaphors communicate a thousand pictures. There are so many factors that go into learning a skill, so distilling key concepts into words and short phrases can serve as extremely powerful memory aids.
For example, to stay top-of-mind, it is important that lawyers use tools that get them seen by wide audiences. I call these tools
"Amplifiers," which is a word (along with a good image) that captures the concept and creates mental pictures of various approaches for doing so.
Another example is cross-selling. In the minds of many lawyers, cross-selling has a distasteful connotation—who wants to be seen as "selling" another service to a client?
Thus, I reframe the concept to "cross-serving," which triggers thoughts and actions in alignment with the desired outcome—to be in service to clients by providing value and to address needs they have in other legal areas.
Supportive Materials
So much learning is a passive exercise, so from time to time throughout the program, I prompt the user to stop the video and write action steps into a master worksheet I provide.
The worksheet's purpose is to get the learner to reflect on the topic more deeply and personalize it to their own situations. It also becomes fodder for discussion in the cohort sessions and can be tracked for accountability.
Below is an example of prompts in the master worksheet:
* * *
Originally Published on Legal Evolution | Nov 2022